What to bring and other practical information
---
What to bring when you have a car
When you traveling by car, is there some good things to bring. Australia is a big country, so extra fuel is always a good thing, if you calculated the distance wrong. Tools, extra oil, air pump and so on, is always good things to bring, if there should happen something unexpected. GPS and a good old fashion map can always get handy at some point. But one of the most important things to the long distance trips is good music.
Other than fuel and water for the outback, is fly net to the windows if you sleep in the car a good thing, and equipment to get free if you get stuck.
What to be aware of in the outback, and what to bring
Well what is the "outback"? It is pretty much a word for no man's land, or the land of really big distances between things, so therefore you have to be careful. Always remember to have enough gas/fuel and water, so if you get stuck somewhere on some small gravel roads where people don't come for days, then you can survive. But as long you drive on the solid roads, people come bye every day. But the gravel/red sand roads are where you will really experience the outback. The outback is mostly found in the middle of Australia, but looks different from place to place. The outback in Queensland and North Territory around the Savannah way is filled with small trees, grass and cattle. The road from Mount Isa to Alice Springs is filled with big grass fields with cattle as long the eye can see, and is amazing in the sundown. Between North Territory and Western Australia is the outback filled with lot of rocks, mountains and trees.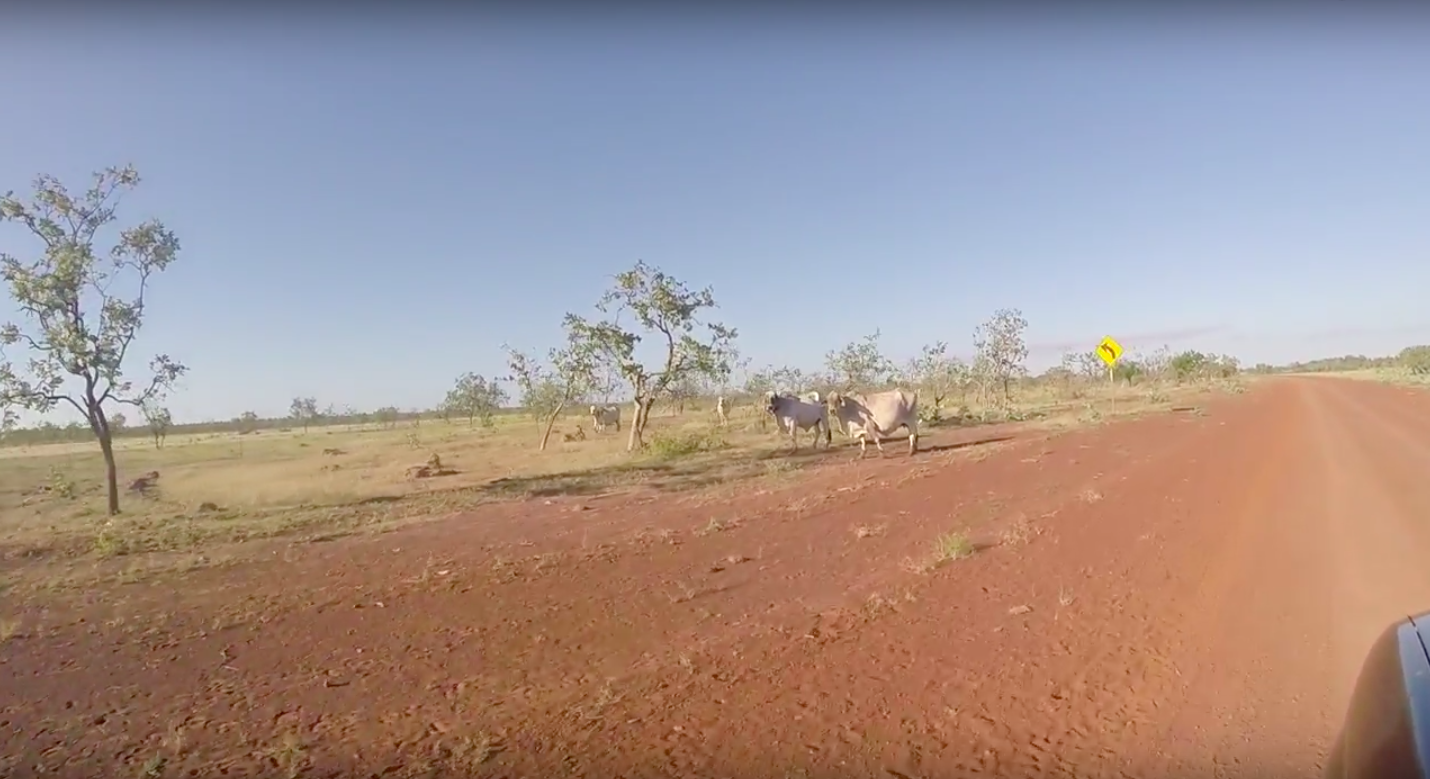 Cattle moving freely close to the road
The outback is an amazing place, with nothing at all. That can also be very boring just see the same thing for hours, but at the same time is that also what is amazing about the outback. The outback has high speed limits, up to 130 km/h, which is nice because of the long distances. That also means you sometimes will catch up to trucks, but be careful when overtaking, because the road trains is longer than you think. The best place to sleep when driving in the outback is camping areas and rest places at the roadside. Try to avoid sleeping in the middle of towns, because people are not always happy about it.
Another thing that have effect on the outback, mainly in the Northern Territory and Western Australia, is the rain season. The rain season (summer) can do big damage to the gravel roads, and simply wash them away. It is mainly north close to equator where they get lot of rain, the biggest rain problems is, so have that in mind when chosen your route in the outback.
Travel times
In the "places to visit" will there be described amazing places, which are worth to see, but how long time is all that going to take. That is a difficult question to answer, because that really depends on the individual person, and how they want to travel, and what plans they have. So therefore will we only give some time frames, which it is possible to see some chosen places in that time frame.
The east coast from Sydney to Cairns can be done in 1 month, where you will see a lot, but with little time to relax. We did it ourselves in 1 month, and that worked for us, but 2 months is better if you want to chill out a bit, and have the time to meet new people and spent time with them.
From Cairns to Darwin or from Cairns to Alice springs, I would say 2 weeks, that will give you enough time to see those few things there are on the way. Even though it is some long distances, you don't have that much to do than driving, so you will quickly get forward.
From Alice spring to Perth over the great central road I would consider between 1-2 weeks, because you have a time frame you only can be on the great central road for. If you take the long way south, without seeing Adelaide, 2-3 weeks, because of the longer road, and more things to see.
So from Perth to Adelaide probably 2 weeks, 1 week if you have already been driving that way in the one direction.
From Adelaide to Sydney, including seeing Melbourne, and driving on the great ocean road, 2-3 weeks should be enough. But probably closer to 3 weeks maybe even 4 weeks if you also are going to see Canberra and drive through the mountains on the small roads.
These time frames I have set up is as mentioned before not for everyone, someone can do it faster, and others think it is way too quick.
Published:
By: Casper
Other content