How to get around in Australia (how to buy a car)
---
There is several of different ways to get around Australia, and the best way for you depends on your plans for the future trip.
Bus, planes and train
Bus, plain and train also known as public transport, can be a very useful travel way. Australia's public transport is working great, with planes flying to all the big cities, and also not that big cities or towns. Busses are of course used a lot inside the cities along with trains and trams. But you can also use busses to get from and to cities; especially up along the east coast are busses a popular way to get from one place to another. Busses is also available over great distance, though I would imagine it could be a pretty rough trip, do to the long time spent traveling. Trains in Australia are mostly used in the cities or suburbs to the cities, though they are also found over greater distances.
All the big cities in Australia have a good public transport network, which most of the time works great. All of them also have some kind of public transport card , though it is most common to be a different card in each city.
The public transport way of travel can be very useful for backpackers or other travellers who is just traveling from city/town to city/town, where they will find a hostel, motel or hotel. It is cheap and with no attachments, but it won't get you out to the small unique places.
Traveling with others
Traveling with others can give your trip lot of special moments, and at the same time making good friends. One of the best ways to find someone to travel with is using Facebook, where you can find endless Facebook's groups about backpacking in Australia, and almost every big city have at least a handful backpacking groups. In these groups you can ask about everything, meeting new people, and also find travel companions.
Using this way to travel can be very cheap, because you travel companions maybe have a car, and you can just pay some gas money to get along. This way also have very good possibilities for meeting new people, friends. But that can also create complications, if you and your travel companions don't want the same thing, or don't get along. If you and your companion don't have the same plans can both be good and bad thing, because you will see things you maybe wouldn't have seen otherwise, but maybe you won't see what you want to see.
So this way of traveling can be used in a way, so if you want to see a specific thing, and then ask some people on a hostel or Facebook if they are going, and after the trip you can continue with your own plans.
Rent a car or camper
Properly the most popular way to travel around Australia for travellers is by renting a car or camper. Having your own car give you so much freedom to do and see exactly what you want to, and by renting a camper you are also free for hotels. People who have plans to travel Australia from 2 weeks to 2 months often rent a sleeping car or camper. The reason for that is again the freedom to see what you want in Australia with very small boundaries. For such "short" amount of travel time, there is too much work in buying a car, compared to the amount a rent car cost. But if you going to travel for a half year or more, buying your own car can be cheaper, because of rent companies insurances, all though you maybe find some good offers at the rent companies, so that's worth a look.
Popular rent companies with cars to sleep in: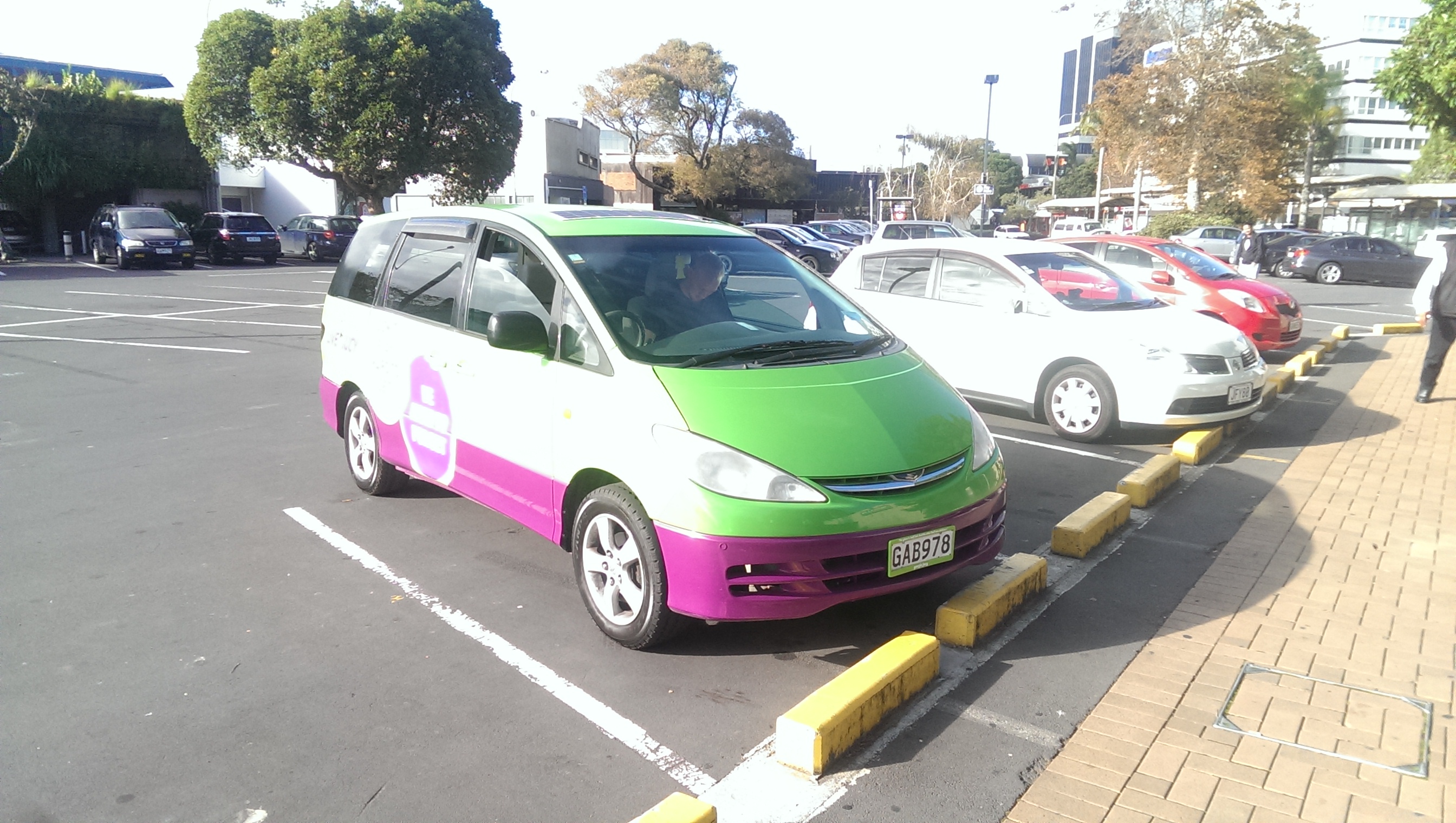 Our Jucy rental car when we visit New Zealand
Buy a car
Buying a car is a big decision, especially in another country, but at the same time it is also the ultimate backpacker experience. With your own car you get FREEDOM. You can go everywhere, and don't have any time pressure about when you have to reach your destination. If you buy the right ones, you can live in the car, which means sleep, eat and travel. Which we strongly recommend, the possibility that you can drive into a rest area and sleep, is priceless. That also mean you don't need hotels, which means you have money to other fun things. But not everything is the smell of red roses, if the car brakes down, there is only one (unless you are more people in the car) to pay. So it is important to take care of the car, so it least can get you to the end of your trip. Especially if you have to sell it again, you want to take care of it.
But what car should you buy then, well that depends of what you going to use it for. Is it only for transportation between a and b, or is for travel. If it is only for transport to work e.g., then either buy a cheap kind of a car, which can do the job, or buy a little more expensive car, which you maybe can sell for the same price.

If you on the other hand are going to use for travel purpose, there is a list of options: a station car, van or a four-wheel drive wagon. Although you also can choose a small car you can't sleep in, but where you then can bring a tent around. Station cars is built to be good driving cars with good comfort, which is definitely a good thing to have, plus it also includes lot of space. The bad side of the car its the height, because you can easily have a madras in the back, but you can't have all you other stuff under the bed. That means you got to pack it on the front seat when sleeping, or have some permanent boxes on the roof, if possible. It also lack the option to drive on other than solid roads, like gravel roads or sand roads.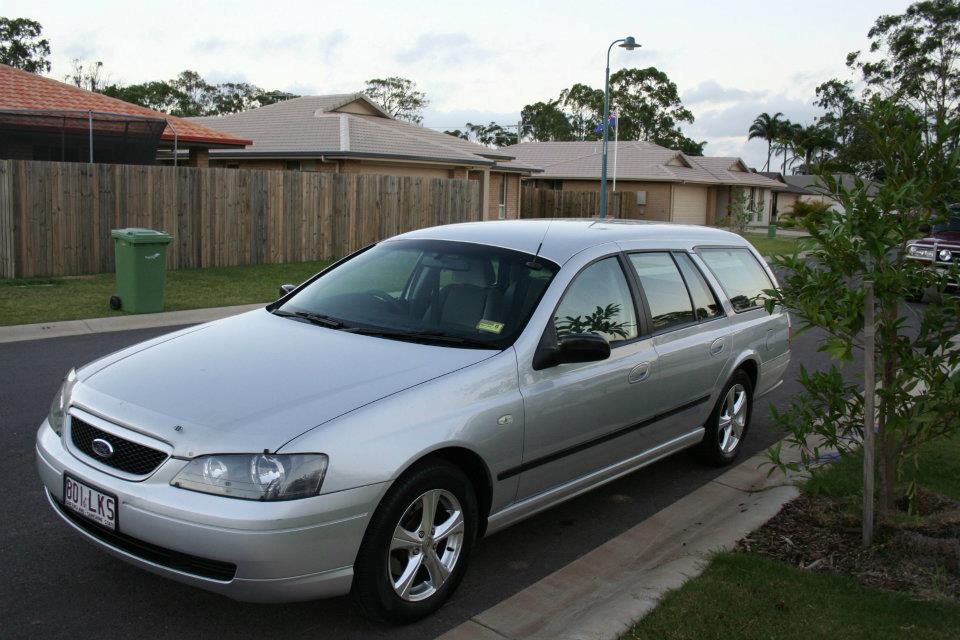 Caspers and his friend Mads Ford Falcon (station car), when Casper was in Australia for the first time.
If I should make a valid guess, I would say the van probably is the most popular backpacker car choice, and I can see why. The van don't have the same driving comfort compared to the station car, but what it lack on the road, it makes up for off the road. Even though it neither can drive off road or on gravel roads and so on. Because it has so much space, you can pretty much bring everything if you built it up right, which also make it nice to live in, when you have everything you need close. You can easily find pre owned backpacker vans, so you don't have to rebuild it yourself. Because it is so big you have the space to bring lot of things, like chairs, tent and so on, so you can, and want to travel and live in your car for a long time, without being tired of it. Bad things about the van are few, yet the safety issue with sitting close to the front screen, and lack of power, is important to think of.

The four-wheel drive car or 4x4 is the third option. First, if you want to travel with by 4x4, a 4x4 wagon is needed, so you can sleep in it. Even though some of the locals sleep on the back of their utes (aussie name for 4x4 with a lad) with a sleeping back. 4x4 probably isn't as fast as the station car, but it is still a good driving car, with good high comfort. It doesn't have as much space as the van, but still have a lot, so there easily can be built a bed on top your stuff. Sometimes you will also find a 4x4 with a roof net, where you can store stuff in boxes. So the 4x4 car type is definitely worth the consideration, especially because it can get your places the other two car types can't, more precisely, the outback and off road. The bad things about 4x4's is sometimes the width size, but you will get use to it, and the fuel economy can also be a bit worse than the others two. But on the other hand, if you want a real Australian car, it is a 4x4. But we would recommend, bye manual gearbox 4x4, and with high and low gearing (low gearing can be important on Fraser island).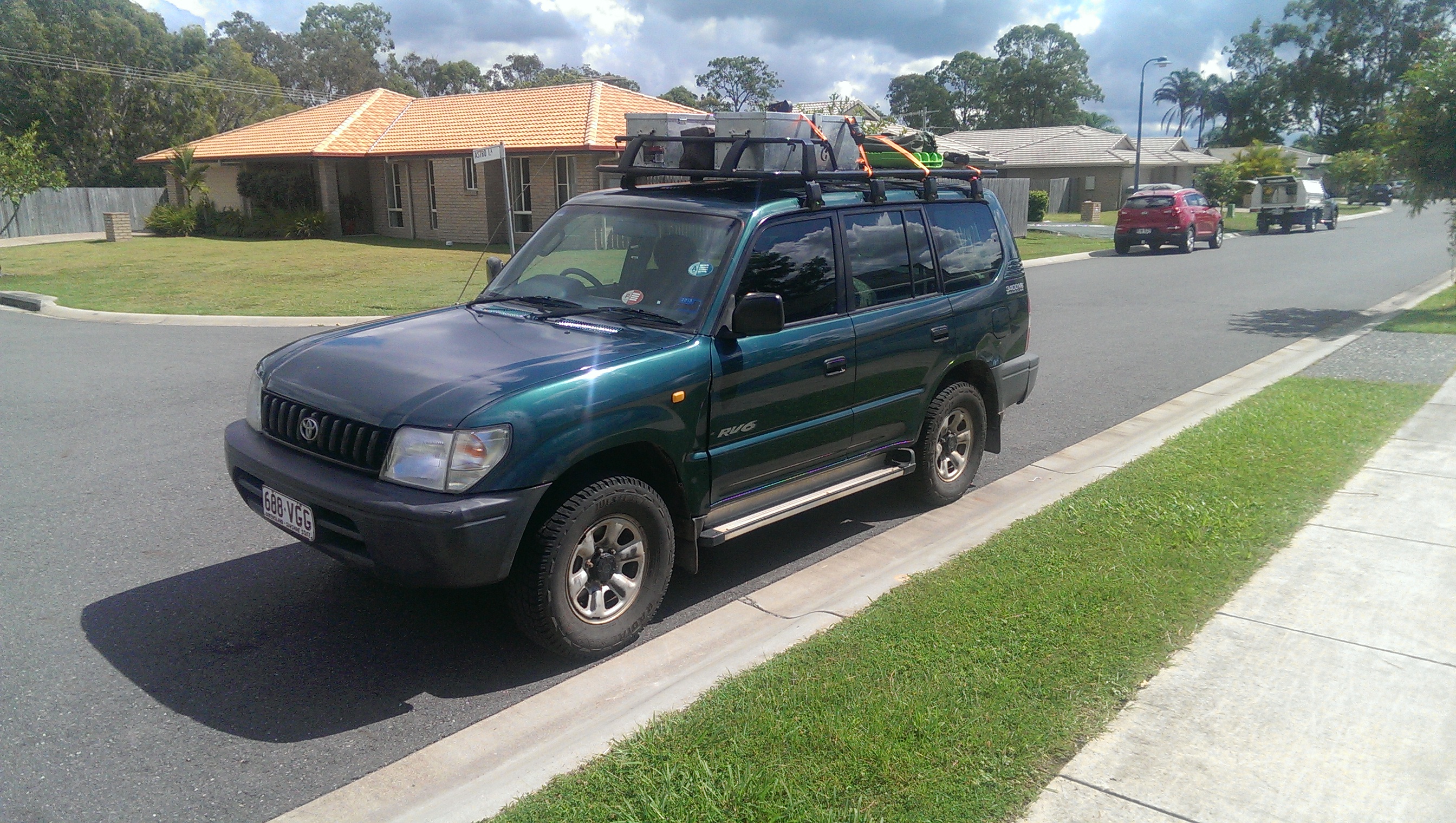 Our Toyota Land Cruiser, a outstanding car!
Australia is the ultimate country when it comes to rest places, you can always find some place where you can sleep with your car, and the important thing is just to pick the right place. Most of the bigger highways between towns and cities have some rest areas along the way, which is good for an overnight between long driving distances. It is more difficult to find sleeping spots inside the big cities which are free, so here are camping parks a good option. Though you can take the chance sleeping in a neighborhood, then choose a quiet one where you don't bother anyone. Another good thing with having your own car is that local people don't know you are backpacker, people is more likely to get pissed off at backpackers in rented cars sleeping in their neighborhood. But we would recommend sleeping at camping areas, hotel, and hostels when you are staying in cities. The same thing is also a good reminder in the outback, we strongly recommend NOT sleeping in small towns in the outback, and then it is better to find a rest stop a couple kilometers/miles outside the town/city. The reason is very simple, not all people is nice, and don't like backpackers as much as people on the east coast.
What to do then when you want do buy a car:



There is a couple of ways how you can find cars for sale, the easiest way and with most cars is searching online. The best websites is

www.gumtree.com.au
www.carsales.com.au
Facebook groups for backpackers is great places to find cars.




We will definitely recommend Gumtree, but the other two is also worth the look. Gumtree probably have more private sellers then Carsales, so there are good chances to find cheap cars.






With private sellers you can save some money, because you can often get the same car cheaper, because there is no middleman who have to make money on the deal. The bad thing about buying or selling private, is the paperwork, but with this papers tutorial, there shouldn't be any problems. When you have found you car online, you contact the seller, set up a meeting where you have to try the car, take a look at the engine, wheels and then the rest of the car. If you detect the smallest failure, you have to talk with the seller about it. Before a car can drive on the road it need a road certificate, which means it have been checked and found valid to drive on the road. When you sell a car you need to have this certificate to the buyer, that means when you buy a car, you need the certificate, which is a good indicator for the car's condition. But be aware, sometimes seller can have made some kind of deal with a mechanic, or the mechanic just haven't did his job right, so sometimes it is a good idea to take it for a service check yourself, to get clearance.
When buying from a professional car dealer, the things are much easier. The car certificate is definitely there, and they will help you with the paperwork and mostly know what they are talking about, because they do it everyday. But still be careful, the cars look great, because nice looking cars sell better, but it don't say anything about what's underneath the hood. The worst thing about car dealers is the price. You can sometimes save up to 70% on buying the same car from a private seller. Every car in Australia have it's own VIN number, this number you can get from the seller and check the number online. This will show you the car's history, if it is stolen, or there is any debt in the car, which there shouldn't be.






The paper work for when you buy a car private, or sell for that matter, it is the same papers you are going to need.




First you need an address, which most hostels can help you with, or else there is places that rent a post-box, you can search for that online. An email is also a good thing, which you probably have. A mobile phone with Australian number is also a really good thing, if not necessary, because you need to write the number on the papers.
As I understand the papers, you don't need an Australian bank account to buy a car, so that means you can pay with money from your own account. Although I would recommend to get a bank account if you are going to stay in the country for a longer period, but more about that in Job and Finance.
There is one really important paper both buyer and seller have to fill out before the deal is valid, and that is the "Vehicle Registration Transfer Application". Every state has their own registration papers, so have that in mind, that you can't use any registration papers. The application will ask if you have a CRN number, which is necessary to buy a car in Australia. But you will probably don't have a CRN number (sometimes you get a CRN number when you open a bank account, but that is not the same CRN number), so therefore the application will tell you to fill out another application, the "New Costomer Application (individual). The NC application will give you a CRN number and the right to buy a car.
When both applications is completed, you have to take the papers with you down to the local motor office, so they can help you transfer the car over in your name. You can give both applications to the office at the same time, you don't need to have fill out and send the NC application earlier. Remember to ask for CRN number at the motor office, it can get important later. The seller also need a CRN number, and he already have one because he owns the car.
In Australia they use car registration, so you are allowed to drive on the roads. There are different rules from state to state, but the most common is to pay for 6 or 12 months registration. So as a reminder, think about that when you are buying a new car. When your registration is getting close to end, the government will send you a letter with information's how to buy more registration. But to buy more registration you will need your CRN number which is on the letter they send, so that means you need this letter to pay for registration, which can be a bummer, if it's far away. So that's why it is clever to buy registration at the same time you buy the car, so it's done. At the same time, this is why it is a good thing if you can get your CRN number when you buy the car, it is not certain they want to tell you, but give it a go.
When you have got the car in your name, got the registration, you need to have some kind of insurance to drive on the roads. The insurance you can sometimes also get at the motor office, if not, there is lot of other companies. Banks often also do insurance, so if you already have a bank account, it is nice and easy to have everything collected one place. You can choose from many kinds of insurance, but the most important, and the one you need, before you can drive on the roads, is the insurance that covers "Third Party Property". You can probably buy from 6 or 12 months, and when you come back, you often can get money back if the insurance still runs a couple more months.
All these information's I have described here, and process, can all be find on the state's own governments websites. It is a good thing just to take the time to get a good feeling about what things you got to have in order when you buy a car.
But don't get nervous for the process, and all the paperwork, it is not that difficult, and you're definitely not the only one who buys cars and come from overseas.



When you have to sell you car again, it is pretty much same process. But there is one big difference, when you sell your car you got to decide if want to sell with or without the road certificate. Mostly cars with road certificate get a higher price, but it can also be expensive to get. So a good thing is first get to a service place, where they find all the failures and give you a price for giving you the road safety certificate. After that you can choose whether you want to repair the car, or just try to sell it like it is, which means the buyer need to get a road safety certificate before he can use it.
Except for that, it is pretty much the same process. Put it on Gumtree or one of the other websites, also use Facebook. Get the same papers ready, sign them, get the money, have contact with buyer when he have transferred the car into his name, so you can stop your insurance.




Published:

By: Casper


Other content